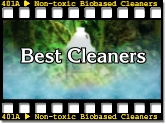 | | | | | |
| --- | --- | --- | --- | --- |
| | | | | |
| Commercial | Health Care Facilities | Hospitality | Industrial | Institutional |




*"

B

est

A

vailable

T

oday's

T

echnology"



Wall Mounted Active Air Purifier -- The Ultimate "Plug-in".

Small and quiet, this little wall hugger
can fix those pesky problem areas in a jiffy.
Far quieter and way more effective than any restroom exhaust fan you've ever seen, this little unsung hero really gets the job done.
Plug it into a standard 120 VAC three prong outlet and
it will effectively treat and deodorize up to 1000 SF!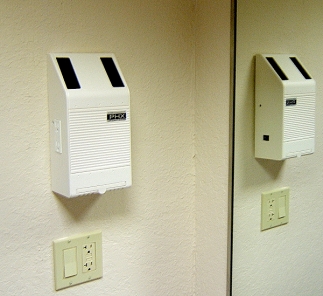 The
Wall Mounted Active Air Purifier
puts out the unique hyper-oxidizing plasmas with a two speed low level whisper fan, just perfect for smaller spaces with limited air circulation such as restrooms, storage closets, water closets (they make great room deodorizers), elevato
rs, and small entry ways and waiting rooms.
The
Wall Mounted Active Air Purifier
plugs into a double outlet and still gives access to its own double outlet.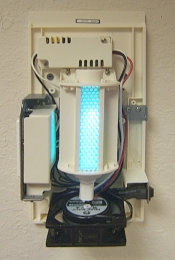 Permanently Installed Wall Mounted Active Air
Purifier
w/ reflection in restroom mirror.
For commercial applications, they can be permanently installed with the included anti-theft installation system.
Powerful and inconspicuous, this part of a total building Pro-active Environmental Technologies system is designed to target smaller rooms or areas with the same active purifying technologies as the larger systems. It is a great compliment to the Free Standing Whole Office Air Purifier as a total protection strategy. Creates fresh air while killing mold and bacteria on surfaces.*


Permanently installed Wall Mounted
Active Air Purifier w/ cover off to show
intallation. For illustration purposes only.
DO NOT OPERATE WITH COVER OFF!
Leave just a little room in the suitcase, and the
The Wall Mounted Active Air Purifier
can go with on your next domestic business trip.
With the

Wall Mounted Active Air Purifier

, safety goes up, and anxiety goes down.
There is a reason why many people dread getting on elevators. Along with concerns about being in a tiny "room" with no windows or doors, there are issues about confronting strangers and invasions of "personal space." Oddly enougn, though seldom voiced, much of the angst is really about the limited amount of brathable air -- fans and often obnoxious "deodorizers" notwithstanding.

Bring the OUTside INside, by installing a

Wall Mounted Active Air Purifier

in an elevator! The fresher, cleaner air produced will go a long way toward alleviating feelings of claustrophobia brought on by being in a confined air space. And it really makes a difference with the level of contamination which crowded conditions create. Active Air Purification is the technology that is needed, and the mighty little

Wall Mounted Active Air Purifier

delivers it well.

There are more than just people crammed into this elevator. Every pathogen each carries and is exhaling is being freely shared with everyone else. And let's all hope that everybody remembered to shower today!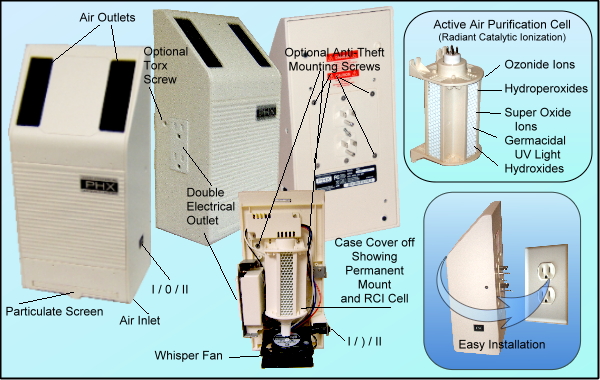 NOTE: NOT recommended for installation on external GFCI outlets.
If required, a panel box type GFCI breaker must be used.
Wall Mounted Active Air Purifier

--

Spec Sheet

Description

Applications

Compact natural air treatment system,
not a filter
Low energy consumption

No chemicals or sprays
Nothing to refill
Plugs into existing 120 VAC outlet
No wiring required
No cleaning required
Anti-teft mounting arrangement




Small or isolated indoor air pollution causing areas
Waiting rooms or small lobbies
Hotel rooms
Nursing home rooms
Public restrooms
School classrooms
Dorm rooms
Virtually any room up to 1000 SF


The technology

The

Wall Mounted Active Air Purifier

substantially reduces odors and visible smoke in the air and microbial populations on

surfaces

* by utilizing the Active Air Purification technology sometimes known as RCI (Radial Catalytic Ionization), consisting of a specialized UVX light source against a photocatalytic target, creating an Advanced Oxidizing Plasma containing several friendly oxidizers.



*Scientific tests have demonstrated the use of Active Air purifiers using RCI (Radiant Catalytic Ionization) substantially reduce microbial populations on

surfaces

-- including, but not limited to Escherichia coli, Listeria noncytogenes, Streptococcus spp., Pseudonomas aeruginosa, Bacillus spp., Staphylococcus aureus, Candida albicans, and S. chartarum. At this point, product testing does not make a similar demonstration with respect to airborne microbials. These statements have not been evaluated by the FDA. These products are not intended to diagnose, treat, cure, or prevent any disease.
Wall Mounted Active Air Purifier

--

Specifications

Electrical
120 VAC, 60 hz
15 watts
Mechanical
one 3-setting control switch
low/off/high (fan on)
Dimensions
12" H x 4" W x 6.25" D
30 cm x 10 cm x 16 cm
Weights
2.9 pounds
1.3 kilograms
Coverage /
Ozone Output
Up to 1000 SF
*University studies of the Active Air Purification

technology in this unit have shown mold and pathogen kill rates on surfaces as high as and even higher than 99.9% in just hours -- with some viruses showing virtual 100% elimination!
There are a number of places where the
Wall Mounted Active Air Purifier
with
the RCI
technology
is just the right fix!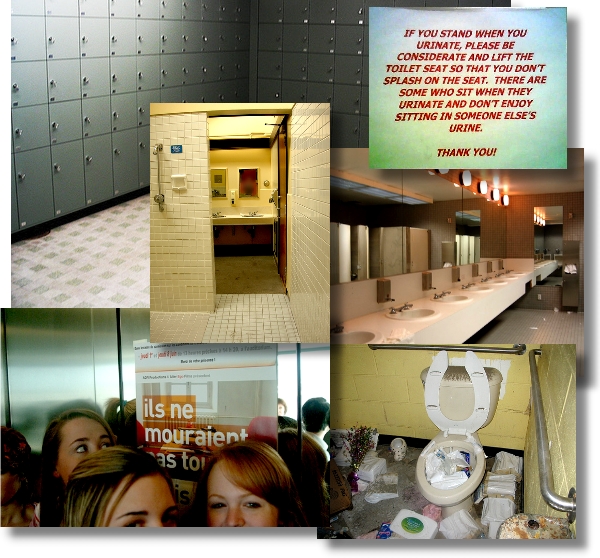 Commercial Solutions Home Page
Inline HVAC Solutions

Inline Active Air Purification HVAC Probes
Mini Active Air Purification HVAC Probe
General Air Purification
Free-standing Whole Office Active Air Purifier Series
Super Portable Active Air Room Refresher
Wall Mounted Active Air Purifier
Book Shelf Fanless Active Air Purifier
Mobile Active Air Purifier

Targeted Particulates
5K HD Active Air Purification Ionizer / Sanitizer
Light to Medium Duty Active Air Electronic Particulate Ionizer
High Volume Heavy Duty Industrial Active Air Ionizer
Selective Targeted Commercial / Institutional / Industrial Active Air Purification System

Specialized Air Purification/Odor - Bacteria Abatement
Cooler/Walk-in Refrigerator Active Air Purification System
Dumpster Active Air Sanitization / Odor Reduction System
Light to Medium Duty Active Air Purification Ozone Generator
HD Industrial Active Air Oxidizing Plasma Generators

Home
Table of Contents
Part 1 -- The Need for What Pro-active Environmental Technologies Does
Part 2 -- Diagnosing the Problem
Part 3 -- Treating the Problem and Preventing a Recurrence
Solutions
(Specific Fixes to What's Wrong with the Air You Breathe Where You Live and Work)
Personal Solutions
Residential Solutions
Commercial Solutions


All materials not supplied by manufacturers or others are
Copyright 2005 - 2014 --
breathe-easier.com
-- All Rights Reserved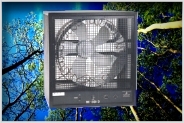 High Volume Industrial Active Air Purification Ionizer --
When it's time to clear the air. NOW.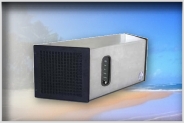 Selective Targeted
Commercial / Institutional / Industrial
Active Air
Purification System
-- Name your (airborne) poison. We have a solution for that.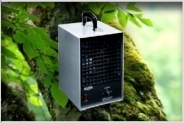 Light to Medium Duty
Active Air Purification
Ozone Generator -- Where odors more than meet their match



Personal Solutions
You don't have to be at the mercy of whatever wherever.
This is where you can expore some exciting options you can have with anytime or take with wherever you go.



The journey continues as we explore the pro-active solutions for the environments in which we find ourselves, starting with where we live, protecting those we love.