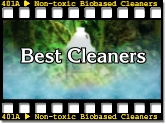 | | | | | |
| --- | --- | --- | --- | --- |
| | | | | |
| Commercial | Health Care Facilities | Hospitality | Industrial | Institutional |



High Volume Industrial
Active Air Purification
Ionizer


Direct the power of a strong breeze flowing through multiple billions
of pine needles in a mountain forest.
Or harness the atmospheric effects of a mountain waterfall.

That is what the Active Air Purification High Volume Industrial Ionizer
does on the INSIDE of your industrial application.

The
Active Air Purification High Volume Industrial Ionizer
is ideally applicable
for removal of heavy visible smoke
and severe industrial particulates -- in areas up to 5000 SF*!

*See specifications below


Applications abound for this high production ionizer.*



Wherever there are large spaces and heavy contributions of dust or dirt -- from dirt floors, or sanding, sawing, filing, grinding, painting overspray, crowd traffic, etc. -- smoke, cutting oil haze, or most any other type of particulates, the

Active Air Purification High Volume Industrial Ionizer

goes to work causing the unwanted material in the air to clump together and drop below the breathing area of the environs . . .

"so we can all breathe a little easier."

SM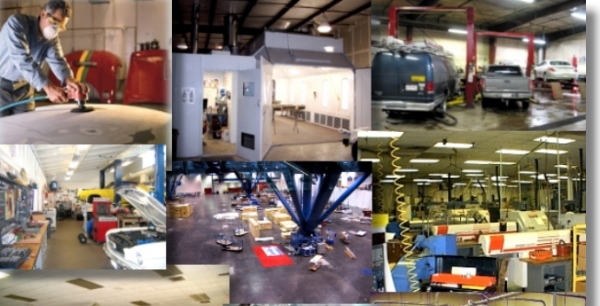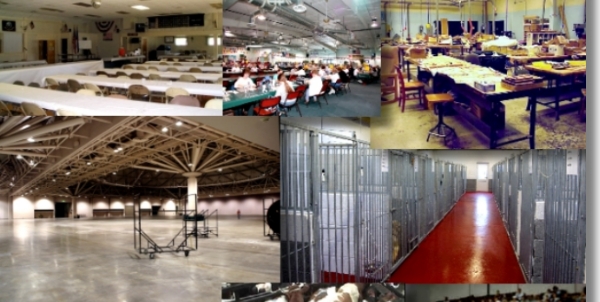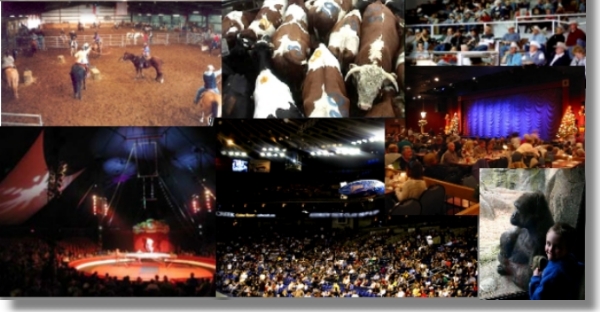 The
Active Air Purification High Volume Industrial Ionizer
has 15 needlepoints: 8 negative & 7 positive set in a radius around an adjustable fan (up to 300 CFM). This allows the fine tuning of the exact mix and flow of positive to negative output which best suits the given situation.
However, the number of ion needles in a machine does not determine Ion output. It is determined by the electronics package that is supporting the needlepoint(s). And that is where the
Active Air Purification High Volume Industrial Ionizer
really shows its power. To determine ion output, multiply the ion output for the

Whole Office Free Standing Active Air Purifier
by 300 or the

5K HD Active Air Purification Ionizer / Sanitizer
by 150 (or approximately
104 trillion ions / cubic centimeter
at a distance of one foot from the machine = s front ). That's the power to smack down a lot of particulates and take them out of breathing range.

For most industrial applications, depending upon pollution load, calculate the installation of one
Active Air Purification High Volume Industrial Ionizer
for each 2000 - 5000 SF at a minimum ceiling height of fifteen (15) feet.

Note that all ionizers work better the higher they can be placed in the indoor air space, as they do their best work from the top down.
Active Air Purification High Volume Industrial Ionizer
- Installation Requirements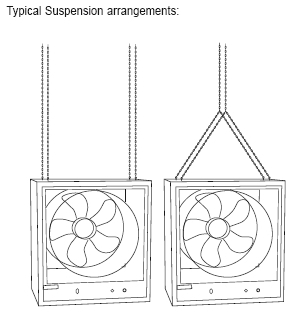 The

Active Air Purification High Volume Industrial Ionizer

comes with a standard 3-prong 120 VAC 60 Hz plug.

In most industrial applications, it is advisable to mount the unit from the ceiling.

The

Active Air Purification High Volume Industrial Ionizer

comes with four, 1/4 - 20 tapped holes in the top of the frame for suspension mounting, or it can be mounted on a TV stand rated to handle 75 pounds.

To protect anyone passing under the

Active Air Purification High Volume Industrial Ionizer

, it should be mounted with the bottom at least ten feet (10') above the floor.

The ceiling height should be at least fifteen feet (15') for the most effective distribution of ions.

Mounting too close to the ceiling may reduce effectiveness.

Most applications work best sending ions

with

the existing flow of air.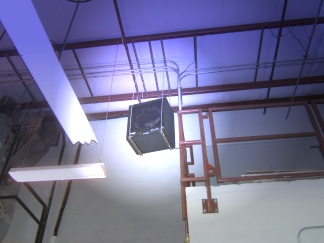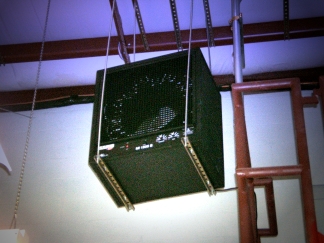 Active Air Purification High Volume Industrial Ionizer

- Spec Sheet

Description

Applications

Mass ion generation and dispersion
Creates both negative and positive ions
Ratio of positive to negative ions fully and easily adjustable
Billions of ions generated by needles mounted around the perimeter of the fan's cowling
Effective coverage up to 2000 SF in heavy pollution or up to 5000 SF in light to mild pollution.


Heavy duty ionizer of industrial, commercial, and agricultural settings
Civic clubs
Bingo halls
Horse and rodeo arenas
Horse and cattle auctions
Automotive body shops and garages
Woodworking shops
Post offices (heavy paper dust)
Convention Centers
Dinner Theaters


Technology
Active Air Purification High Volume Industrial Ionizer

- Specifications
Electrical
120 VAC, 2.0 amps, 60 Hz
26 kv DC ion generator

220 watts power concumption

Mechanical
300 CFM adjustable free air fan
Dimensions
28" H x 26" W x 18" D
71 cm H x 66 cm x 46 cm D

Weight

70 pounds
32 kilograms
Coverage /
Ozone Output
2000 SF w/ heavy pollution
5000 SF w/ light to mild pollution

n/a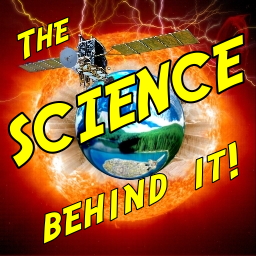 *
Ionization.
Ions are molecules which carry a charge of electricity. Ions are found in the natural outdoors at typical levels of 3000 positive and 4000 negative ions per cubic centimeter. Indoors, there are very few negative ions and the balance is mostly positive ions. By adding negative ions to an environment, the airborne particles will take on this electronic charge and be attracted to oppositely charged particles which will become heavy enough to be settled to the ground by gravity... or... the charged particle will be attracted to grounded objects. Either way the particles are now out of our breathing space. DC Ion generation takes place at the unit. The ions are emitted directly from the needle point itself and the ions produced are totally dependent upon air movement. Many more ions are being generated but they must come in contact with the particulate. DC ion generation is used for extremely polluted particulate problems and effectiveness varies from application to application. Variables such as air movement, amount of particulate, building construction, amount of grounded objects present, and placement will change effectiveness.
Square
Foot
Area
DC Ion Control set for
Full Positive
[ Total # of Ions/cm3 ]
Ion Control set for
50% positive and
50% negative
DC Ion Control set for
Full Negative
[ Total # of ions/cm3 ]
Radio Frequency
Ionization
Ratio of (-) to (+)
50
10,842,823
5,421,462
10,842,923
4,000 (-) / 3,000 (+)
100
5,421,462
2,710,731
5,421,462
4,000 (-) / 3,000 (+)
200
2,710,731
1,355,365
2,710,731
4,000 (-) / 3,000 (+)
400
1,355,365
677,683
1,355,365
4,000 (-) / 3,000 (+)
800
677,683
338,841
677,683
4,000 (-) / 3,000 (+)
1600
338,841
169,421
338,841
4,000 (-) / 3,000 (+)
2400
169,421
84,710
169,421
4,000 (-) / 3,000 (+)
4800
84,710
42,355
84,710
unspecified
9600
42,335
21,178
42,355
19200
21,177
10,589
21,177
38400
10,589
5,294
10,588
To figure the Ion count levels for the

Active Air Purification High Volume Industrial Ionizer

, please take the above figures for the DC ion settings and

multiply by 150

.



Commercial Solutions Home Page
Inline HVAC Solutions

Inline Active Air Purification HVAC Probes
Mini Active Air Purification HVAC Probe
General Air Purification
Free-standing Whole Office Active Air Purifier Series
Super Portable Active Air Room Refresher
Wall Mounted Active Air Purifier
Book Shelf Fanless Active Air Purifier
Mobile Active Air Purifier

Targeted Particulates
5K HD Active Air Purification Ionizer / Sanitizer
Light to Medium Duty Active Air Electronic Particulate Ionizer
High Volume Heavy Duty Industrial Active Air Ionizer
Selective Targeted Commercial / Institutional / Industrial Active Air Purification System

Specialized Air Purification/Odor - Bacteria Abatement
Cooler/Walk-in Refrigerator Active Air Purification System
Dumpster Active Air Sanitization / Odor Reduction System
Light to Medium Duty Active Air Purification Ozone Generator
HD Industrial Active Air Oxidizing Plasma Generators

Home
Table of Contents
Part 1 -- The Need for What Pro-active Environmental Technologies Does
Part 2 -- Diagnosing the Problem
Part 3 -- Treating the Problem and Preventing a Recurrence
Solutions
(Specific Fixes to What's Wrong with the Air You Breathe Where You Live and Work)
Personal Solutions
Residential Solutions
Commercial Solutions


All materials not supplied by manufacturers or others are
Copyright 2005 - 2014 --
breathe-easier.com
-- All Rights Reserved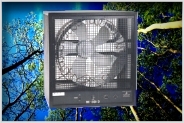 High Volume Industrial Active Air Purification Ionizer --
When it's time to clear the air. NOW.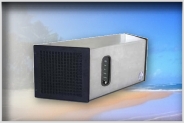 Selective Targeted
Commercial / Institutional / Industrial
Active Air
Purification System
-- Name your (airborne) poison. We have a solution for that.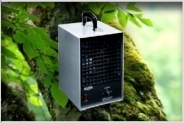 Light to Medium Duty
Active Air Purification
Ozone Generator -- Where odors more than meet their match



Personal Solutions
You don't have to be at the mercy of whatever wherever.
This is where you can expore some exciting options you can have with anytime or take with wherever you go.



The journey continues as we explore the pro-active solutions for the environments in which we find ourselves, starting with where we live, protecting those we love.